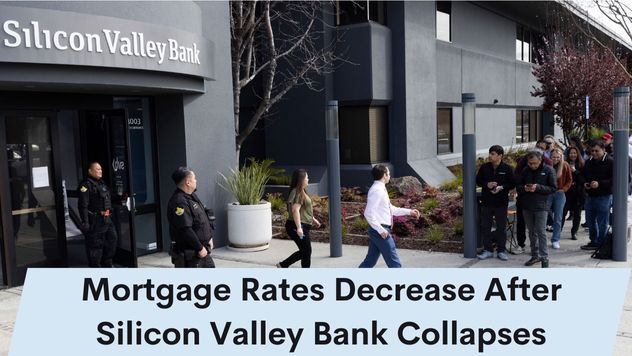 Mortgage rates were headed sharply lower Monday as financial markets reacted to the failure of Silicon Valley Bank (SVB), with forecasters predicting that the Federal Reserve will ease up on rate hikes aimed at curbing inflation.
In an ironic twist, mortgage rates are nosediving because investors seeking a safe place to park their money in the wake of SVB's failure are piling into the same investments that got the bank into trouble — long-term Treasurys and mortgage-backed securities (MBS).
Yields on 10-year Treasurys, a useful indicator of where mortgage rates are headed, plummeted Friday and Monday hitting levels not seen since January. When demand for bonds is high, their value goes up, pushing down yields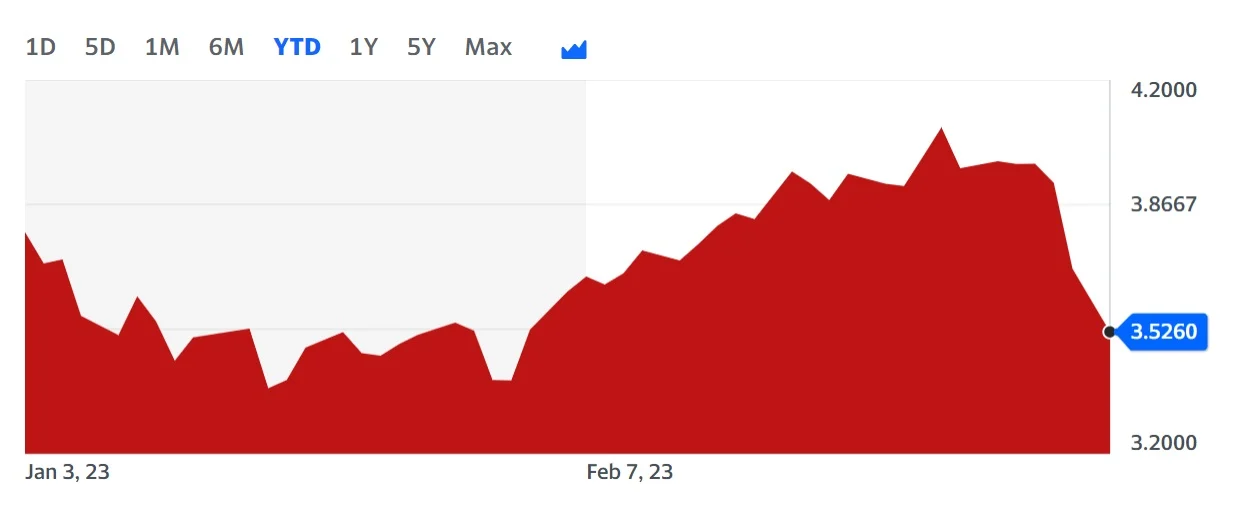 Yields on 10-year Treasury notes plummeted in the wake of Silicon Valley Bank's failure. | **Source: Yahoo Finance
Yields on 10-year T-notes, which were above 4 percent on Thursday, dipped as low as 3.42 percent Monday before recovering some ground as investors were reassured by the government's move to contain the fallout from the failures of Santa Clara, California-based SVB and Signature Bank of New York.
In the hopes of preventing runs at other banks, federal regulators on Sunday announced a "systemic risk exception" that will "fully protect" all depositors at SVB and Signature Bank — including those with more than the $250,000 maximum insured by the Federal Deposit Insurance Corp (FDIC).
President Joe Biden nevertheless promised Monday that "No losses will be borne by the taxpayers. Instead, the money will come from the fees that banks pay into the Deposit Insurance Fund."
Mortgage rates, which had looked headed back above 7 percent last week after Fed Chair Jerome Powell delivered a pessimistic inflation report to Congress, have also eased since the SVB crisis built steam Thursday.
According to an index compiled by Mortgage News Daily, rates on 30-year fixed-rate mortgages averaged 6.57 percent Monday, down nearly half a percentage point from 7.05 percent on March 9.
After Powell's testimony last week, futures markets were pricing in a 78 percent chance Fed policymakers would accelerate their rate-hike campaign and bump the federal funds rate up by 50 basis points at their next meeting which concludes on March 22.
But the failures of SVB and Signature Bank — coupled with a slowdown in wage growth revealed in a jobs report Friday — have forecasters and financial markets thinking the Fed will take a more relaxed approach next week.
SOURCE: INMAN.COM
If you have been holding off on buying due to higher mortgage rates, now may be the time to reconsider. Reach out to us today and we can discuss your specific situation and help you get into a home of your dreams. Feel free to reach me at janet@simplyyourbestmove.com / 703-646-1750.